Press Releases
Day 1 Alliance Launches Targeted Advertising Campaign In Colorado
January 29, 2020
Washington, DC – This week, the Day 1 Alliance launched a targeted digital advertising campaign in Denver, Colorado highlighting the small but valued role the private sector plays in addressing corrections and immigration detention challenges in Colorado and the United States. The digital ad campaign – targeted to news and political websites in the state capital – is set to run for the next month.
"Private sector contractors are a small but valued part of the solution to serious challenges facing corrections systems in Colorado and across the nation," said Day 1 Alliance national spokesperson Alexandra Wilkes. "For more than 35 years, private contractors have partnered with local, state, and federal governments led by Democrats and Republicans to help meet vital public safety needs and relieve overcrowded facilities in a cost-effective way for taxpayers."
"As this advertising campaign makes clear, private sector contractors provide thousands of incarcerated Coloradans with innovative reentry programs that reduce recidivism, giving them the tools they need to live positive, productive lives upon release," Wilkes continued. "Meanwhile, in partnership with the federal government, purpose-built immigration processing facilities provide safe, dignified, respectful treatment to migrants whose immigration cases are being adjudicated by the federal judicial system. Removing the private sector from the criminal justice or immigration system would actually harm the men and women in our care, reducing their access to reentry programming and exacerbating the state's prison overcrowding challenges."
Examples of the digital ads are below: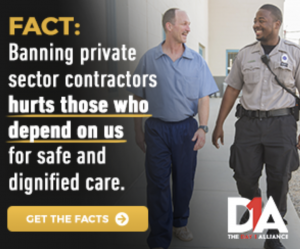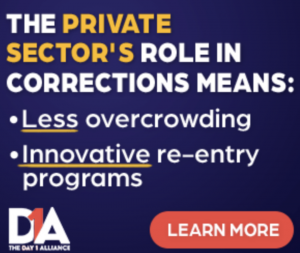 The advertising campaign links back to a Day 1 Alliance landing page highlighting key facts on the private sector's role in corrections and immigration detention, available here.
About the Day 1 Alliance:
The Day 1 Alliance (D1A) is a trade association representing private sector contractors helping address corrections and detention challenges in the United States. For more than 35 years, D1A members have worked with local, state, and federal governments led by members of both political parties to provide professional, humane, and respectful treatment to incarcerated and detained individuals. From day one, we understand we have a responsibility to provide safe and dignified care to those in our facilities. D1A members do not lobby for or against policies, regulations, or legislation that impact the basis for or duration of an individual's incarceration or detention.
The founding members of the Day 1 Alliance are CoreCivic, The GEO Group, and Management & Training Corporation.
Learn more at day1alliance.org and follow us on Twitter @TheDay1Alliance.
Media inquiries:
contact@day1alliance.org
###